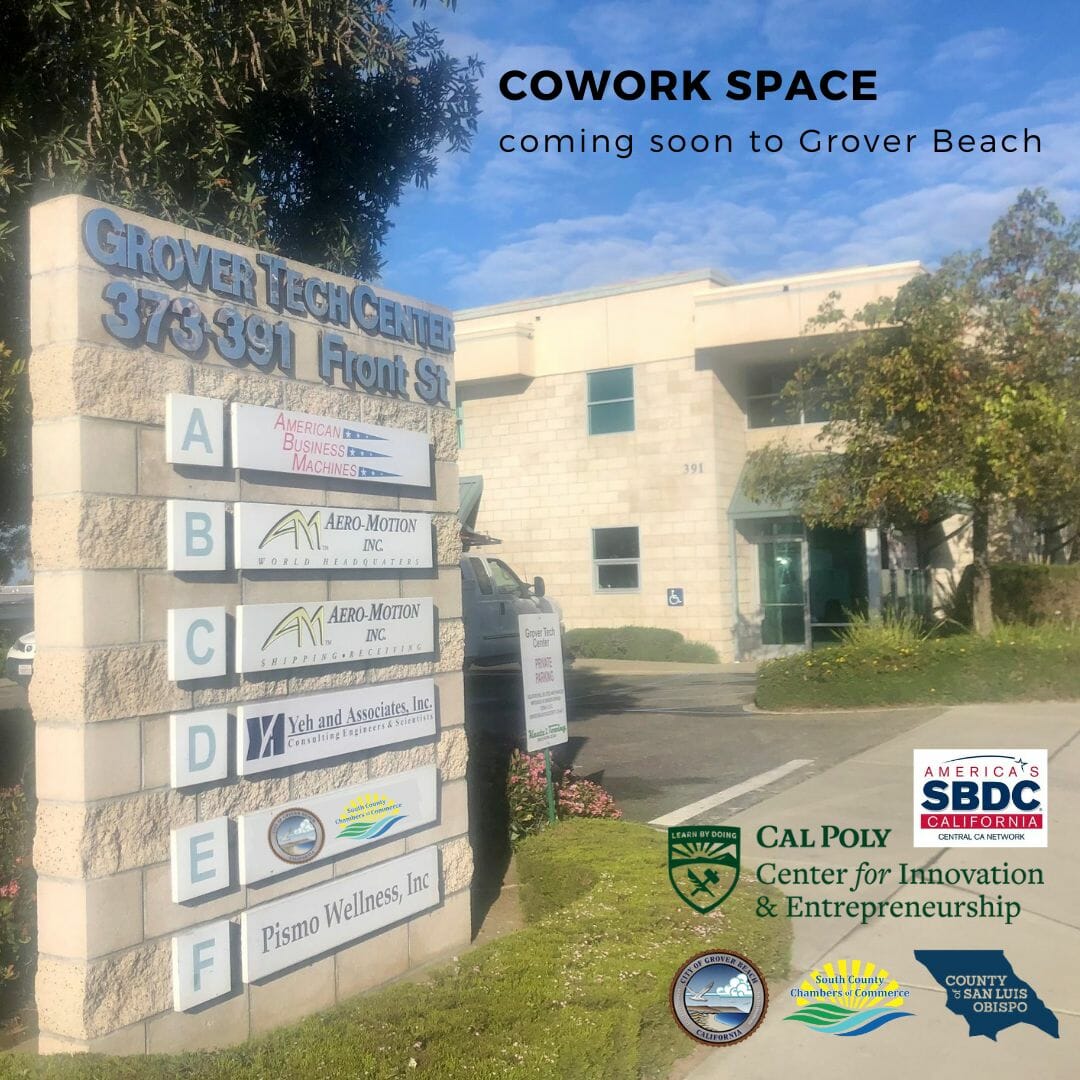 GROVER BEACH — South County Chambers of Commerce is opening a new cowork space soon in Grover Beach in partnership with the Cal Poly Center for Innovation & Entrepreneurship (CIE) Small Business Development Center (SBDC), the City of Grover Beach, and the County of San Luis Obispo. Office space is available for lease through the South County Chamber of Commerce. Currently the space has a commitment to house an aerospace and aeronautics incubator program from its location at 391 Front St.—just a short walk from the "West End" of Grand Avenue with its shopping and restaurants, the beach boardwalk, and the monarch butterfly grove.
"We are delighted to welcome this new coworking and incubator space to Grover Beach," said Grover Beach Mayor Jeff Lee.  "This innovation hub will bring additional jobs and economic vitality to our community, and we thank the Chamber, the County, and Cal Poly Center for Innovation & Entrepreneurship for their partnership on this space."
"We are witnessing the start of a tremendous and transformative opportunity for our region, especially Grover Beach, thanks to the vision and leadership of all the partners involved," said San Luis Obispo County District 3 Supervisor Dawn Ortiz-Legg.
The cowork space will feature private offices, open desk seating, high-speed fiber optic internet service, and a conference room with audio/visual capabilities. Free business workshops and programs will be offered at this location. To help meet the diverse needs of local businesses and entrepreneurs, there will be flexible month-to-month membership rates ranging from $175-$900 per month. The Chamber plans to start private office rentals in April and intends to have a formal grand opening on May 2 once the space is complete.
"Our mission is to support local economic development, especially in terms of helping diversify our regional economy," said Judy Mahan, Cal Poly CIE and SBDC Economic Development Director. "We have the resources in our County to help launch and successfully grow tech startups in the aerospace and aeronautics industry.  Creating a hub in Grover Beach, close to Vandenberg Space Force Base, solidifies the ties between all the stakeholders eager to execute on the mission.  We are thrilled to be collaborating with the City of Grover Beach, and the CIE SBDC is excited to now also have an Outreach Center for all businesses in South County."
For questions and interest, please email cowork@southcountychambers.com, or call (805) 489-1488. Click here to visit the cowork website.
# # #