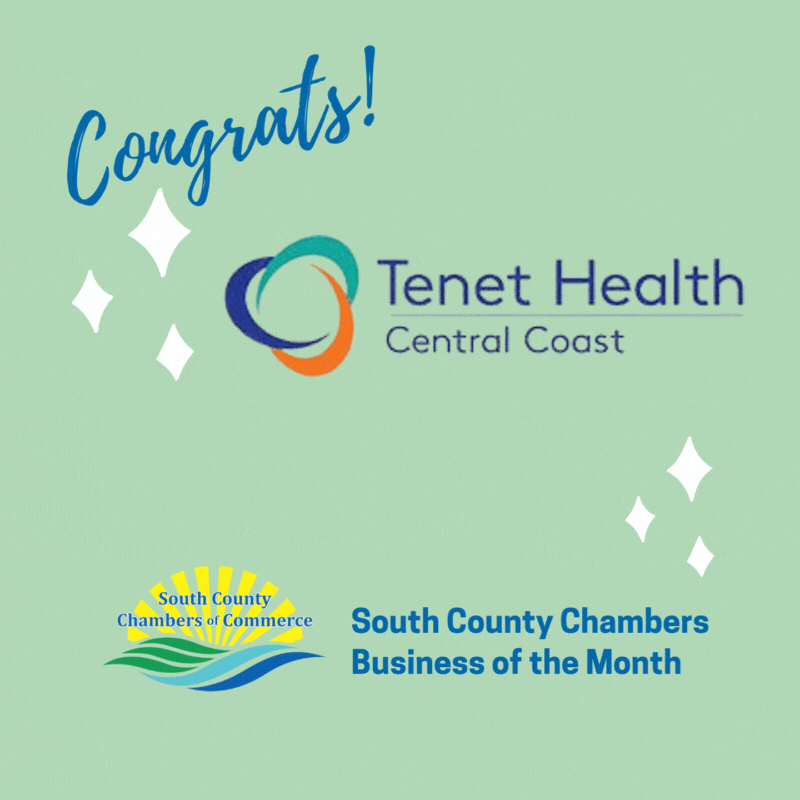 Congrats to Tenet Health Central Coast as the South County Chamber's Business of the Month for June 2023!
Tenet Health Central Coast is an integrated healthcare system consisting of two acute care hospitals and several affiliated entities, including primary and specialty care, outpatient imaging, and laboratories across the Central Coast. The hospitals are Sierra Vista Regional Medical Center in San Luis Obispo—the county's only trauma center—and Twin Cities Community Hospital in Templeton.
Both are internationally recognized Baby-Friendly birth facilities and both have earned the "LGBTQ Healthcare Equality Leader" designation from the Human Rights Campaign Foundation. Tenet Health Central Coast serves many diverse communities throughout the Central Coast, enabling all that come through their doors access to quality, coordinated care and advanced specialty services at convenient locations.
Tenet Health Central Coast Primary & Specialty Care recently announced that it has two expert options for South County residents for Gastroenterology/Intestinal Medicine (GI) services at their Arroyo Grande location at 1154 E. Grand Ave. South County residents can benefit from the specialized experience and expertise of Doctors Damian Fernandez and Rahab Hajar who are both fluent in Spanish. To learn more or make an appointment, please call their office at (805) 541-1422.
Sierra Vista Regional Medical Center (1010 Murray Ave. in SLO) is hosting a hiring event on Wednesday, June 28th, from 10 am to 2 pm in their main hospital auditorium. Explore exciting opportunities in nursing, allied health, and ancillary roles. Up to $20K sign-on bonus for select positions. Click here for details.