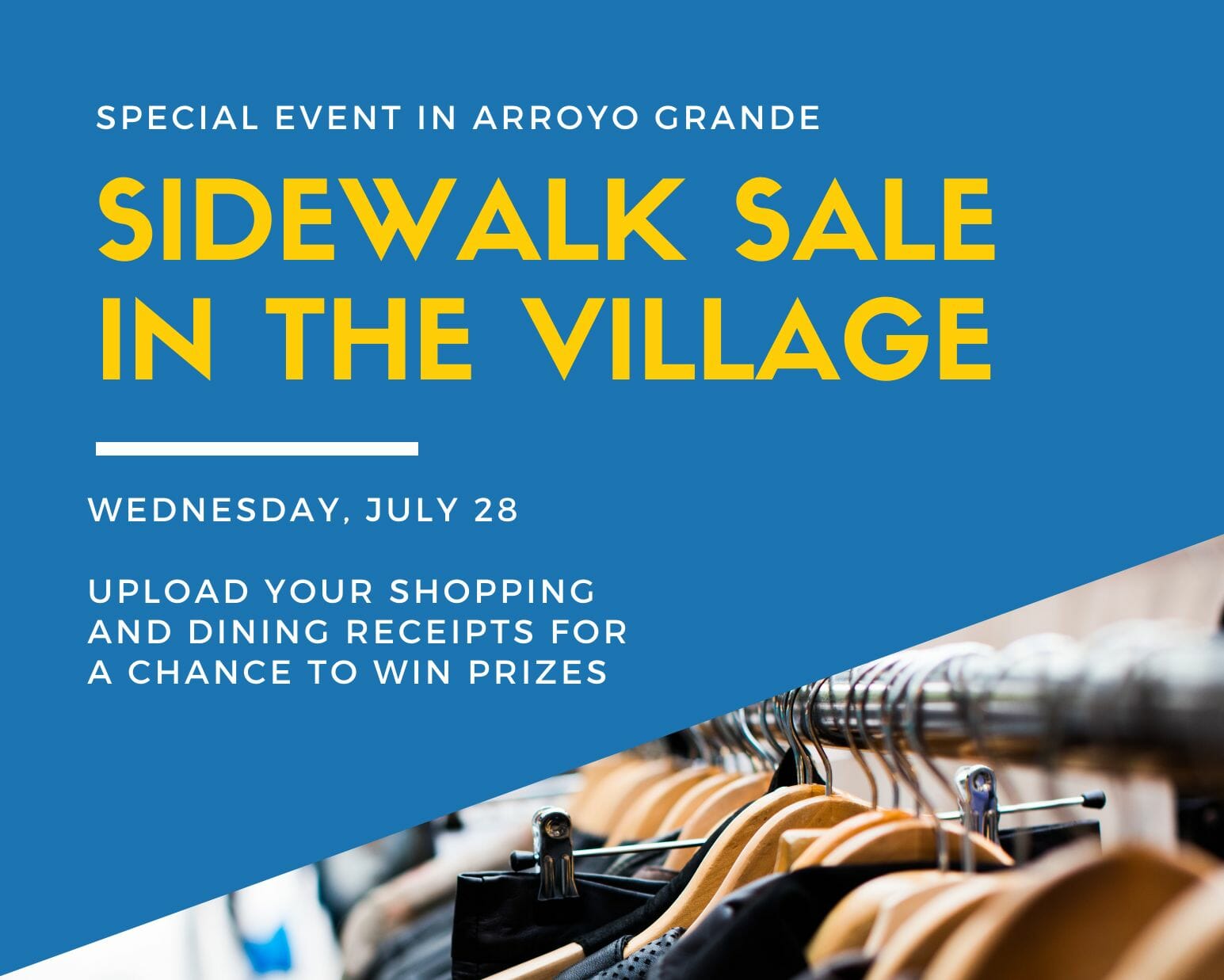 Sidewalk Sale in the Village of Arroyo Grande
offers shoppers, diners a chance to win prizes
 VILLAGE OF ARROYO GRANDE — In an effort to boost local spending—and have a little fun—merchants in the Village of Arroyo Grande are donating valuable prizes to a drawing that eligible shoppers and diners can participate in when supporting local businesses.
While shopping and dining in the Village of Arroyo Grande on Wednesday, July 28, patrons can submit their receipts—once they total $50 or more—for an entry to a drawing of valuable prizes. One of the prizes available is a stay at The Agrarian Hotel in the Village. There are also hundreds of dollars' worth of gift cards available from Village merchants in the salon, retail, restaurant, winery, automotive, and fitness categories.
Village businesses who are donating prizes to the drawing include: Chic Interiors, Lady Di's Boutique, Posies in the Village, Luxe Boutique, Ritual Skin and Body Care, Sidewalk Café, Café Andreini, Hello Village, Sports Dugout, Brisco's Village Gift, Pure Pilates, Mule Bakery, Branch Street Deli, The Hive, Humdinger Brewing, Poke Morro, Village Vintage, Timbre Winery, Verdad Wines, and JB Auto. Prize items include valuable gift cards, wine bottles, apparel, and more.
The receipts must be dated July 28 and support local businesses in the Village. Shoppers and diners can upload multiple receipts to total $50, and they will receive one drawing entry for every $50 reached in local spending. All receipts must be uploaded by July 31 to be eligible for the prize drawing. Upload receipts here or at https://form.jotform.com/211891706768164.