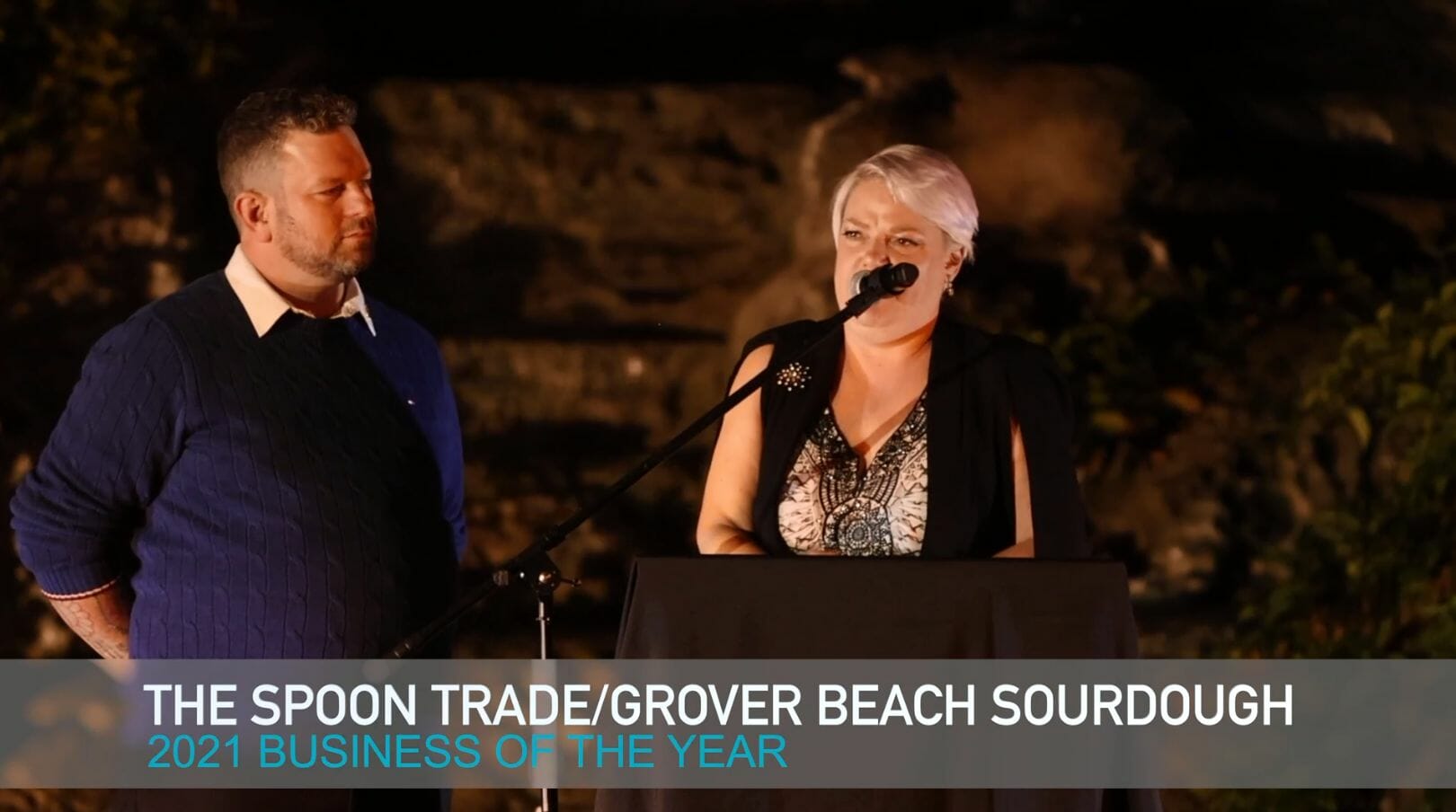 SOUTH COUNTY — South County Chambers of Commerce announced the community award winners Wednesday evening at its Annual Dinner & Recognition Awards at Villa Loriana. The award presentations included 2020 Business of the Year, 2021 Business of the Year, 2020-2021 Ken Talley Youth Service Award, and 2021 Chamber Ambassador of the Year.
The Business of the Year Award recognizes one business for all South San Luis Obispo County who has contributed significantly to strengthening the South County economy, community, and workforce. Rutiz Family Farms earned the title for 2020 and The Spoon Trade/Grover Beach Sourdough won for 2021.
Rutiz Family Farms, the 2020 winner, has been growing quality, pesticide-free, organically fertilized vegetables, berries, culinary herbs, and cut flowers since 1981. Their farm offers pesticide-free, sustainable agriculture. At Rutiz Family Farms, it isn't just about growing fruits and vegetables—it's about redefining a relationship between a community and the farmer. Their goal is simple: To bring fresh, nutritious, and safe food at a reasonable price and good value to their customers and their families. The farm stand, located adjacent to the farm's 30 acres of beautiful land, allows for direct sales of their farm products, harvested at their peak of ripeness and flavor.
The Spoon Trade, the 2021 recipient, exemplified leadership in adapting to COVID guidelines and successfully relaunching their Grover Beach Sourdough location across the street. In response to the demands imposed by COVID restrictions the owners made the decision to operate both businesses under one roof in the summer of 2020.
In a Facebook post they said "As we move forward, we are trying to adapt little by little every day in hopes that we will one day soon be able to serve our guests again in our restaurant. It has been a rocky road and we are still pushing pretty hard to save where we can and still pay a couple people. We have always had the support of our surrounding community and it is more apparent now more than ever how loved we really are. This is our chance for change and adaptation. Even though we are just barely holding onto our restaurant, we accept the challenge. We are not going anywhere."
Brooke and Jacob were able to reopen their bakery, Grover Beach Sourdough, back in its original location in March 2021.
The Ken Talley Youth Service Award recognizes an individual for outstanding contributions to youth in South County. The award includes a $1,000 grant to the local youth organization of their choice. Jeff Long is the 2020/21 Ken Talley Youth Service awardee. Jeff Long is the Executive Director of the Nipomo Recreation Association and is well known in the South County community as a volunteer, referee, coach, and a leader. He works with students from preschool age to high school and is often regarded as a great encourager, hardworking, dedicated, and a favorite ref. He also runs sports programs throughout South County as well as several preschools in Nipomo. Jeff was instrumental in coordinating Lucia Mar family meals and keeping childcare programs running for essential workers.
South County Chamber of Commerce ambassadors welcome new members and assist at Chamber events. They often act as an extension of the Chamber's staff and play a critical role at breakfasts, mixers, and other special events. Kassi Dee of Nan's Pre-Owned Books won the title of 2021 Chamber Ambassador of the Year. Kassi is the owner of Nan's Pre-Owned Books and took the reins of the bookstore in 2020 when her grandmother, Nan, retired. She is described by her fellow Chamber ambassadors as cheerful, enthusiastic, energetic, and helpful. One ambassador said "Kassi is always cheerful. She keeps everyone involved and helps make them feel welcome at every opportunity. Her smile is contagious. She has had an amazing year and is so deserving of this award. Her enthusiasm and eagerness are infectious. She is a growing leader in the community and a joy to work with." Another ambassador commented "Kassi embodies joy and happiness. I get a recharge every time I see her beautiful face."
The event sponsors of the annual dinner include Sentinel Peak Resources and Plains All American Pipeline. Event partners are Epic Entertainment, Villa Loriana, Field to Table Catering & Events, Edna Valley Vineyard, Sunshine & Reign Photography, Andy Morris Entertainment, Central Coast Auction Service, 101 Wine Tours, United Staffing Associates, and Patrick Ang Photography (video). Nan's Pre-Owned Books created the table centerpieces.
Click here to watch video clips of the Annual Dinner & Recognition Awards from Patrick Ang Photography. For more information, please call (805) 489-1488, or e-mail info@southcountychambers.com.