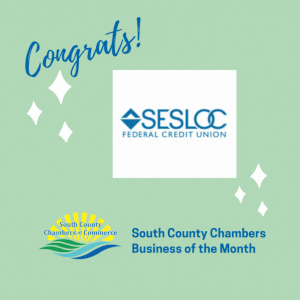 September Chamber Business of the Month: SESLOC Federal Credit Union
Congrats to SESLOC Federal Credit Union as the Chamber's Business of the Month for September 2023!
We are pleased to present our South County Chambers Business of the Month is SESLOC Federal Credit Union. SESLOC has been a dedicated member of the chamber for years. More importantly…. SESLOC Federal Credit Union is Celebrating 80 Years of People and Place "It's people that make the place. The go-getters, the do-gooders, the kick-backers. And that's exactly who SESLOC is here for."
It is SESLOC's commitment to people and place that motivated our marketing committee and the Board of Directors to chose SESLOC Federal Credit Union and Business of the Month for September, 2023.
"Yep. We're the credit union with the funny name."
"Our name may be funny, but to us, your financial dreams and goals are serious business. We make money simple and do what's right for our members."
The name SESLOC is an acronym for School Employees of San Luis Obispo County. Rooted in academics and locally-headquartered for 80 years, membership is now open to everyone in Northern Santa Barbara and San Luis Obispo counties. SESLOC is a place for all.
Learn more about their employees, awards, and recognition at http://www.sessloc.org and check out some of their trending news articles below.
Credit union members share a common bond, such as where they work or live. SESLOC serves those who live, work, or attend school in San Luis Obispo and Northern Santa Barbara counties. Their members are local, so money stays local, and SESLOC stays community focused.
Credit unions are cooperative financial institutions designed to give back to their members, not stockholders. Credit unions are not driven by profit. Credit unions have a volunteer Board of Directors, and profits are returned to members in the form of lower loan rates, higher savings rates, and lower cost services. The credit union philosophy that people are more important than profits benefits both the credit union members and their community.