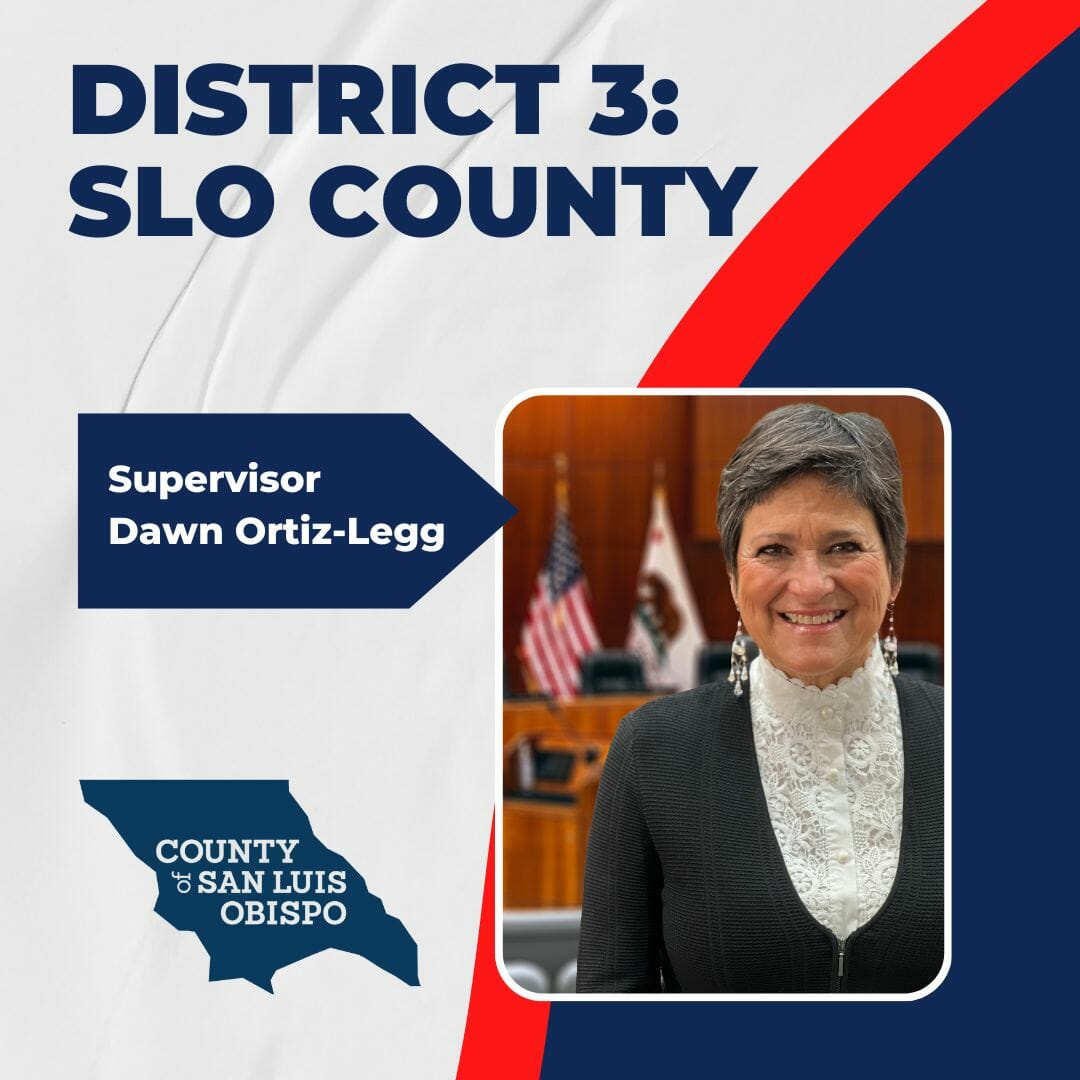 Dear South County Chamber members,
And just like that it's Fall, or at least it's the Central Coast version of Fall. We get to enjoy pumpkins and Halloween décor while continuing to wear our Summer attire it's kind of the best of both worlds. One of the best things about Fall is soup weather. You know the kind of weather that has you craving comfort food and a warm bowl of soup. I was recently invited to be a "celebrity" server at Empty Bowls and fundraiser for 5Cities Homeless Coalition. It was great to visit with friends, and help raise money for a great organization that helps so many of our unhoused neighbors. Just a little update on Board of Supervisors items that have an impact on District 3, your County Board approved the appointment of Mindy Hunter to the Avila Beach Local Area Advisory Board as requested by the SLO County Tourism Business District. Health and Human Services was a big part of our September Board of Supervisor agendas. The Board approved contracts to provide more mental health support, eating disorder treatment, and services to assist those transitioning from incarceration to behavioral health treatment or supportive housing. We also approved the remodel of a portion of our Health Annex for use as a Sobering Center, which is greatly needed for our community. I look forward to this facility becoming operational early next year. At the September 12th meeting, the Board received the "Resilience Roadmap: A Comprehensive Economic Development Strategy for the Counties of San Luis Obispo and Santa Barbara." This report is a first-of-its-kind Comprehensive Economic Development Strategy. The roadmap identifies a number of actions for building a more economically resilient Central Coast, focusing on three large-scale initiatives. These initiatives include launching new career pathways, encouraging business expansion by improving the "entrepreneurial ecosystem," and boosting affordable housing. I would encourage you to read the report and give any comments (the deadline is October 12th). At the September 26th meeting, the Board received the year-end financial report and reviewed the final budget actions proposed for our next fiscal year. The outlook is grim as we face several financial stressors. This challenge, while significant, is not insurmountable, and I am confident our team will help us find a way to utilize our funds effectively. Finally, we bid farewell to yet another fantastic County employee who retired after 37 years of service. Craig Kessler began his career with the County of San Luis Obispo as a Water Systems Trainee in 1986. During his 37-year career, Craig wore many hats and was promoted and promoted again. He has been an exemplary employee, establishing outstanding relationships with regulatory agencies and community groups. Congratulations, Craig, on your much-deserved retirement; you will be missed! At the September 26th Board of Supervisors meeting, the board received a presentation on the County's Cannabis Program. On November 27, 2017, the Board adopted countywide cannabis land use regulations. Since the first action by the Board, there have been a number of amendments. In June, the Board directed staff to bring back an outline of the Board requested changes to the ordinance.
Some of the easy modifications we approved moving forward with are:
Changing permit expirations to expire five years after the project becomes operational instead of five years after the approval date.
Mobile dispensary hours changed to align with state standards, which extends delivery by two hours during the evening. Monterey County and Santa Barbara County delivery services are taking advantage of the difference to sell to SLO County residents. This results in a loss of revenues, both in taxes to the County and profits to our local business.
The more significant lift will be changing the ordinance to allow storefront retail dispensaries. Our City partners have already paved the way and shown us how these businesses CAN be incorporated into our communities while addressing concerns about health, safety, and community compatibility. Any significant changes to this ordinance by the Board will be a staged process, including opportunities for community engagement and feedback. I look forward to implementing some of these changes that will help make this industry more profitable in our community while allowing the County to receive appropriate revenues via taxes and licensing.
This is a very brief overview of just some of the highlights. If you want to read Board of Supervisors agendas, see item documents, or even watch upcoming meetings, you will find them HERE on the County website.
On November 1, 2023 the County will host an Off Shore Wind Information Session at 4-7PM. It will be hosted by Congressman Salud Carbajal, Senator John Laird, Assemblywoman Dawn Addis and representatives from the State Lands Commission, California Coastal Commission, Bureau of Ocean Energy Management and the Fishing Industry and the Off Shore Wind companies. It will be free, and at the SLO County Government Building at 1055 Monterey Street in San Luis Obispo.
In closing there is a lot to enjoy in our beautiful county as we move through Fall. These are some of the events I have on my calendar. The Commission on the Status of Women and Girls will be holding a Feminine Hygiene and Incontinence product drive October 10th-14th donations can be dropped off any time that week in collection bins located at the SLO County libraries. Also happening in the second and third weekend of October is the Open Studios Art Tour. Finally I will be judging again this year at the Avila Beach Children's Business Fair on October 14th. The event begins at 10am, nearly 100 aspiring entrepreneurs will be selling their goods until 1pm. My office hours are by appointment by calling 805-781-4336. Thank you!
In service,
Dawn Ortiz-Legg