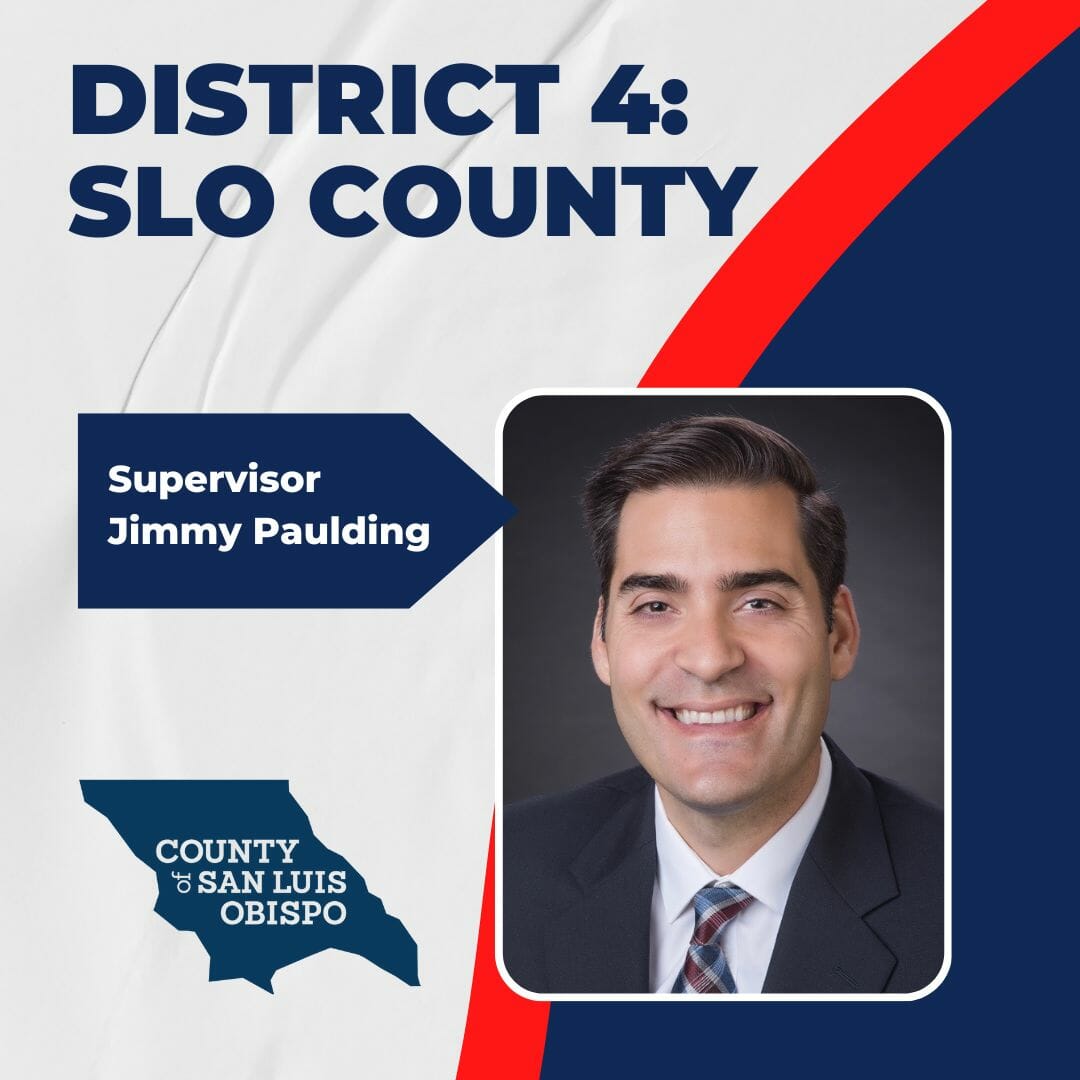 Supervisor Jimmy Paulding: November Chamber Newsletter
Update from Supervisor Jimmy Paulding, District 4: Nipomo, Arroyo Grande, Oceano, Huasna, Edna Valley, California Valley, and unincorporated portions of San Luis Obispo
This month I would like to highlight several recent County initiatives related to water security and government efficiency. I would also like to invite you to participate in our inaugural "We
Nipomo" community cleanup event on November 12. Lastly, mark your calendars: Our Board of Supervisors meetings this month will be held on November 7th and 28th.
Securing and protecting our local water resources: The Central Coast Blue (CCB) recycled water project recently received an $8 million grant from the State Water Resources Control Board, lessening the financial impact on local residents. CCB is a local water sustainability project that will create a new, high quality, and reliable water supply for our Five Cities communities. I am glad to see this project that I helped champion as an Arroyo Grande City Council Member moving forward.
In addition, the County received a grant of $548,410 to study potential sites for a regional desalination plant. The County was originally expecting to pay 100% of the cost for this part of the project, but this grant will cover about half of this phase, which will help determine location and technology. This is great news, and it is exciting to see our regional desalination effort moving forward.
We are also very fortunate that our State Senator John Laird and our Assemblymember Dawn Addis secured more than $1.2 million in the state budget to help our County Public Works Department make critical repairs and improvements to the Arroyo Grande Creek Levee, including sediment and vegetation removal and levee reinforcement. I have heard from constituents in Oceano and across South County who are very concerned about flooding. This is why I have committed to making this a public safety priority at the County in order to protect the health and safety of our local residents and their property.
'We
Nipomo!' park cleanup event: Earlier this year, my wife Kendra and I coordinated We
AG – a community clean up and beautification event in Arroyo Grande – and over one-hundred volunteers showed up to give back to their community. Now, Kendra has taken on Nipomo! Please join us for We
Nipomo on Sunday, November 12, at the Nipomo Community Park Gazebo at 9:00AM. You can sign up for your project of choice here. Questions? Email weheartnipomo@gmail.com.
Reducing waste and inefficiency in County government: As part of the Board of Supervisors' Lean Forward initiative, the first cohort of Lean Six Sigma Green Belts has graduated. We have identified 13 short-term improvement projects (Kaizen Projects) within 10 different departments that will be driven by the new Green Belts.
One of the first Kaizen projects is for the Planning and Building Department to streamline the process regarding online public inquiries. This will improve the Department's tools and process for receiving, sorting, assigning, answering, and tracking general public comments and questions submitted online. In general, the Lean Six Sigma principles will be used by the Department to focus on customer value, reduce waste, improve flow, and reduce or eliminate variation. I am eager to see our Lean Forward initiative improve the County's operations throughout the organization.
Pre-reviewed accessory dwelling unit (ADU) plans: The County has officially launched its Pre-Reviewed ADU plans where single-family homeowners can choose from six County-reviewed plans (with multiple roof lines and facades), allowing for a more cost effective and streamlined permitting process. Though the plans are free, you will still need to hire professionals for site specific requirements (foundation, septic systems etc.). The program was announced earlier this year, and the County has recently finished working with the design firm to finalize most of the pre-reviewed plan documents. This program is available to all property owners in the unincorporated areas of SLO County. If you live in the City of Arroyo Grande, you can access a similar program here.
Office hours: I welcome hearing from constituents. Please schedule an appointment by emailing district4@co.slo.ca.us or calling 805-781-4337. You can also sign up for my email newsletter and learn more about what's going on in the district on the District 4 webpage at slocounty.ca.gov/district4.
Sincerely,
Jimmy Paulding
San Luis Obispo County District 4 Supervisor