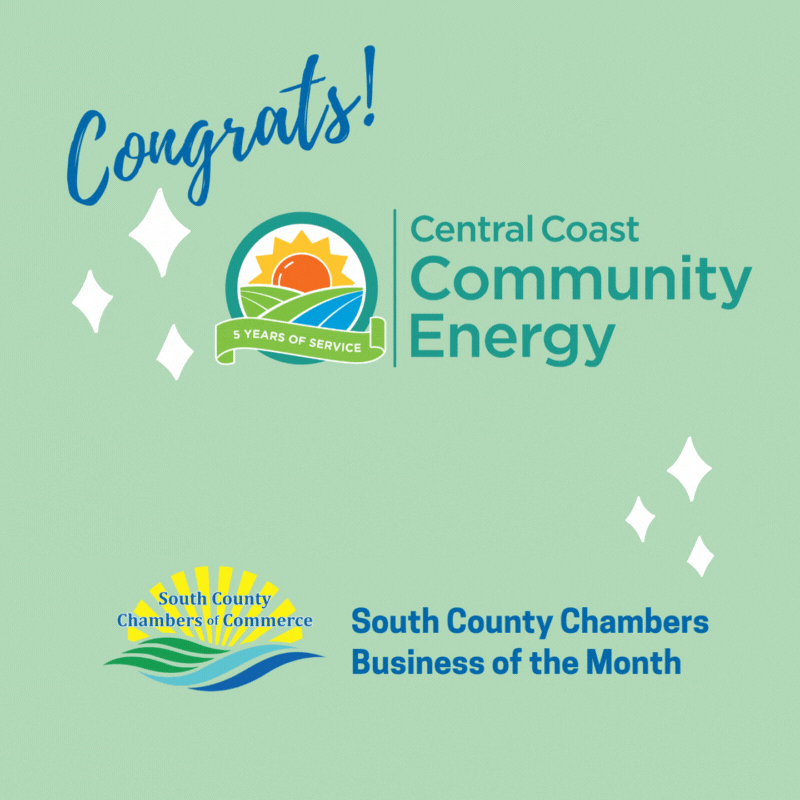 Congrats to Central Coast Community Energy (3CE) as the Chamber's Business of the Month for July 2023!
3CE is a public agency that procures electricity from clean and renewable energy resources. Thirty-five communities joined Central Coast Community Energy (3CE) with the shared goal of gaining more control over their electricity needs: to reduce greenhouse gas emissions, support the growth of clean and renewable energy, and access additional economic and environmental benefits. 3CE follows the Community Choice Aggregator or "CCA" model, a community-focused, not-for-profit model that allows for greater commitment to clean and renewable energy while supporting community reinvestment for affordable and fair rates and equitable access to clean-energy resources.
3CE serves 95% of the population throughout Monterey, San Benito, Santa Cruz, San Luis Obispo, and Santa Barbara counties. Many community members are 3CE customers without realizing it. South San Luis Obispo County communities that are currently enrolled include Arroyo Grande, Grover Beach, and Pismo Beach. San Luis Obispo and Morro Bay are also enrolled.
As a 3CE customer, your utility (PG&E) continues delivering power as well as maintaining electric infrastructure and billing, but 3CE and the communities they serve now manage where (local vs. California vs. out-of-state) and how (solar, wind, geothermal, etc.) electricity is generated. With no investors or shareholders to pass profits on to, together with our customers, 3CE chooses how best to reinvest in the Central Coast community.
PG&E continues charging for Transmission and Distribution, while 3CE now charges for Electric Generation (formerly part of PGE or SCE Bundled Service costs).
Click here to learn more.