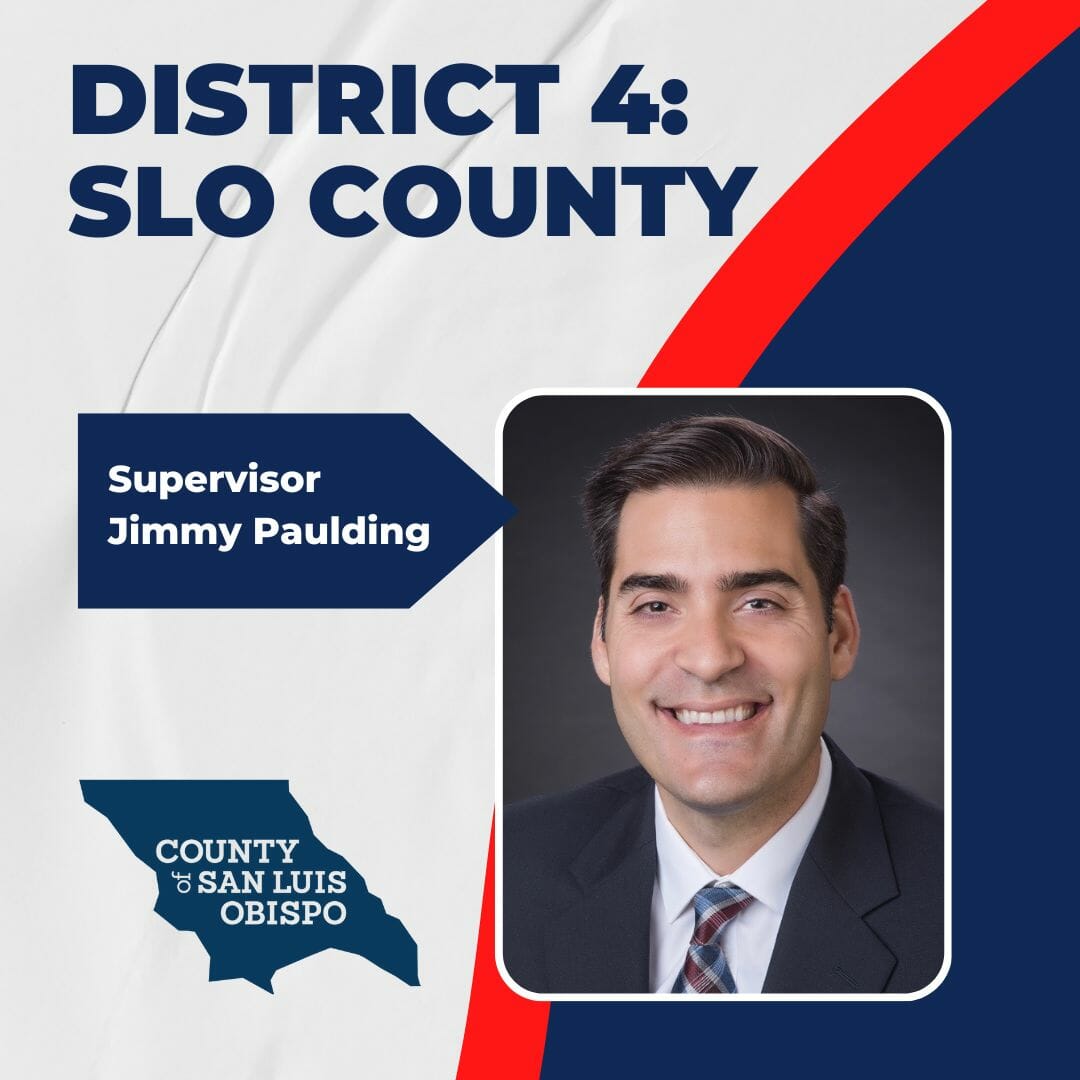 Update from Supervisor Jimmy Paulding, District 4: Nipomo, Arroyo Grande, Oceano, Huasna, Edna Valley, California Valley, and unincorporated portions of San Luis Obispo
I hope you all are enjoying your summer. The Board of Supervisors and our county government have been hard at work. I have some exciting news to share about two recently awarded grants for our region including one to relieve traffic congestion and another to build supportive housing for our homeless. I also have an update on the proposed Dana Reserve housing project.
The latest on the Dana Reserve project: The Dana Reserve housing project, which seeks to build more than 1,300 homes in Nipomo, is making its way through the planning and permitting process. The South County Advisory Council reviewed the project on July 24 with more than 200 community members in attendance. The advisory body decided to hold off on making a recommendation until after the draft final environmental impact report is released on August 4. The Planning Commission is currently scheduled to have hearings on the project on August 30 and 31 before coming to the Board of Supervisors sometime after that. Each of these meetings will include opportunities for members of the public to weigh in. As I have indicated to those who have reached out, I will carefully consider all public input when the project comes before the Board, but I will reserve my comments or take a position on the project until it comes time to vote on it.
$65M for Highway 101 congestion relief has been approved: At the end of June, the California Transportation Commission approved the San Luis Obispo Council of Government's $65 million grant request to help relieve traffic congestion on Highway 101 near Pismo Beach. The Five Cities Multimodal Transportation Network Enhancement Project will add a peak-hour travel lane on southbound 101 to relieve the major bottleneck during rush hour. This is a big win for South County! I am proud to see this project advancing after having advocated for it over the last five years on the SLOCOG Board.
SLO County awarded a $13.4M homelessness grant: SLO County recently received a big financial boost to address homelessness in our community in the form of $13.4 million in Encampment Resolution Funds from the State of California Interagency Council on Homelessness. The County will use the grant funding to reduce encampments in a flood and fire danger zone near and around a segment of the Bob Jones Bike Trail in San Luis Obispo. The Welcome Home Village, which will be located next door to the County's Department of Social Services headquarters, will supply 80 beds through the creation of 34 interim and 46 permanent supportive housing units. Additionally, the County of Santa Barbara, with the support of SLO County, received its own $6 million encampment resolution grant to fund outreach teams to help clear the homeless encampment in the Santa Maria riverbed.
Office hours: I welcome hearing from constituents. Please schedule an appointment by emailing district4@co.slo.ca.us or calling 805-781-4337. You can also sign up for my email newsletter and learn more about what's going on in the district on the District 4 webpage at slocounty.ca.gov/district4.
Sincerely,
Jimmy Paulding
San Luis Obispo County
District 4 Supervisor